For many pet owners desexing goes hand-in-hand with better pet ownership. Desexing your pet not only reduces the number of homeless and unwanted cats and dogs, it also has considerable health and behavioural benefits that can help your pet live a long and healthy life with you.
Sadly, there are an overwhelmingly large number of pet owners who hold off desexing their pet because they cannot afford it.
The Lost Dogs' Home is committed to providing low-cost desexing options for pet owners throughout Victoria. Through our campaigns and initiatives we aim to raise awareness of the importance of desexing within the community and offer low-cost options for pet owners in need.
MADI (Microchipping and Desexing Initiative)
2020 and 2021 have been challenging years, as we continue to navigate a global pandemic. Due to various factors and challenges, our mobile low-cost desexing service, MADI, is currently on hold until further notice. 
MADI, short for Microchipping and Desexing Initiative, makes low-cost desexing accessible to cat owners throughout Victoria in partnership with local Councils.
Our fully-equipped mobile vet surgery, MADI travels throughout Victoria to offer low-cost desexing in areas where it is needed most.
Since it hit the road in 2016, almost 5,000 cats and kittens have been desexed in MADI.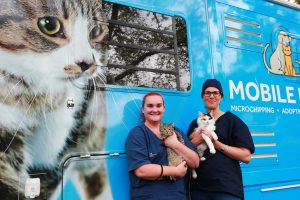 National Desexing Month
An initiative of the National Desexing Network, National Desexing Month takes place every year, with participating veterinary clinics offering discounted desexing to pet owners on presentation of a pension, health care or concession card. The campaign helps pet owners ensure their cat or dog will never contribute to the high number of unwanted companion animals.
National Desexing Month also makes a difference to animal welfare on a larger scale by raising awareness and demonstrating that desexed pets make great pets.