For the animals at The Lost Dogs' Home their time at the Home is a small part of their journey. When they walk out the doors with their new families, each one of these animals has been given a much deserved second chance.
Back in 2009 we met Staffy cross border collie Buckley, the eight week old puppy who came into the Home after his ears and tail were cut off with a pair of scissors or shears in a callous and deliberate attack.
Following surgery, intensive and lengthy veterinary treatment and recovery time in foster care, Buckley was adopted by Madeline – and it was love at first sight.
"I met him at the meet and greet back in 2009 and he was so little and all I wanted to do was to give him a cuddle, keep him safe and show him how much he would be loved," said Madeline.
Now six years after the fateful day Buckley has blossomed into a loving, playful dog who is a central part of Madeline's family.
"Buckley comes everywhere with me, even to my parent's house where he spends time playing with their two Labradors – he has so much love to give everyone.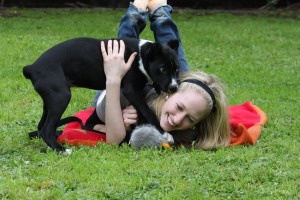 "I have so many funny memories of Buckley – he is such a goofball and you can just watch him play around with his goofy nature.
"Over the past six years Buckley's personality has blossomed and he has really come into his own. He is a sweet dog who is my perfect match in every way," said Madeline.
Want to hear more about Buckley? Tune in to Pets-A-Loud on JOY 94.9 tomorrow from 12pm AEDT where the team will talk to Madeline and other owners of some of the Home's most memorable residents to find out why they are adopted and adored.
You can stream the show via joy.org.au/listenlive
Missed the show? Don't worry; you can catch up with the podcasts at joy.org.au/petsaloud