EARLIER this month, Nelson came into our care with significant injuries. The 3-year-old Labrador cross had unfortunately been hit by a car near St Albans. He was assessed and looked after by our veterinary team at The Lost Dogs' Home.
Nelson had a severely injured eye and a large wound on his side which needed emergency treatment. Due to the severity of his injury, Nelson's eye needed to be removed through surgery.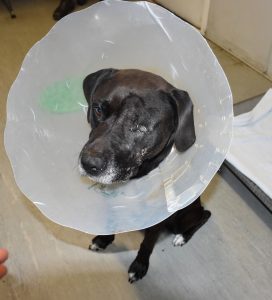 Many people don't realise The Lost Dogs' Home has its very own shelter hospital with a caring and dedicated team of vets and veterinary nurses.
Nelson's now on the road to recovery. Despite his ordeal, Nelson remains a trooper and full of playful doggo energy.
"While he's obviously been through a hard time, his spirits remain high," says vet nurse Tori.
"He loves learning new things. Chasing balls is his favorite thing to do!"
Beauty is in the eye of the beholder and Nelson is now looking for a forever family who will spoil him with the unconditional love he deserves!
"Nelson is such a sweet and affectionate boy," says Tory.
While Nelson may seem independent, he needs lots of love and positive reinforcement training. He's looking for a forever family, where everyone is over the age of 13. People who can help build his confidence with cuddles. Nelson is still unsure about other dogs, so he will need his new humans all to himself.
When you see Nelson in the fur, we're sure it'll be love at first sight.