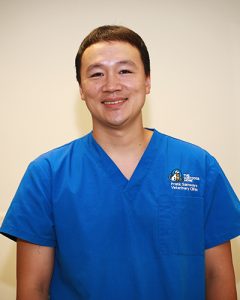 Dr. Ton Tancharoen (BVSc)
Senior Veterinary Surgeon
Ton graduated with a Bachelor of Veterinary Science from University of Melbourne in 2010 and joined the Frank Samways team in 2012.
Originally from Thailand, Ton moved to Melbourne to pursue his dream of going to vet school and becoming a veterinary surgeon.
Ton has a special interest in orthopedic surgery and is highly skilled and experienced in performing complex surgeries both in our private clinic and for our shelter animals.
In his spare time, Ton enjoys travelling and diving.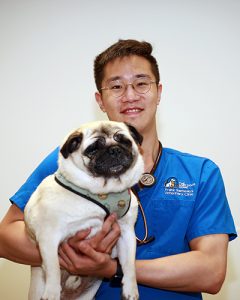 Dr. Saxon Liu (DVM)
Veterinary Surgeon
Saxon graduated from University of Melbourne with a Doctor of Veterinary Medicine in 2019 and joined the Frank Samways team in 2021.
Born in Japan, Saxon then moved to China in early 2000's before relocating to Australia in 2013 to complete vet school.
Saxon has a keen interest in small animal surgery and ultrasound. What he loves most about his role is that every day is different, and he enjoys learning new things to improve the health and wellbeing of his patients.
When Saxon is not at work caring for animals, he is at home cooking Chinese cuisine, exploring new café brunch spots and road tripping around Victoria.
Saxon can speak Mandarin.
His fur family consists of Soju (black & white, 1 year old domestic short hair)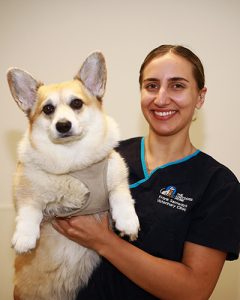 Centaine
Veterinary Nurse Team Leader (RVN)
Originally from Western Australia, Centaine grew up on a farm and was surrounded by animals from a very young age.
Centaine began her career as a vet nurse in 2015 in a mixed animals practice in the heart of the WA dairy industry. It was there she was able to gain experience caring for large animals as well as cats, dogs, exotics, and wildlife. In April 2021 Centaine decided to make the big move to Melbourne to join our team here at The Lost Dogs' Home.
Centaine holds Certificate IV in vet nursing.
Her special interests include emergency care and exotic animals. Centaine is highly skilled vet nurse who is passionate about patient care, and she loves the hands-on and technical skills that patient care requires. Following your pet's healthcare journey over their different stages of life is something Centaine enjoys most about her role.
When Centaine isn't at work, she enjoys baking and buying things she doesn't need. She is a self-confessed shopaholic!
Centaine' s fur family includes Frank (8-year-old Pug), Poopy (3-year-old Corgi) and rescue cat Kahlo (8-year-old).
Melissa
Senior Veterinary Nurse
Melissa began her nursing career in 2007 and joined the Frank Samways team in 2013. She holds a Certificate IV in vet nursing.
What Melissa enjoys most about her role is how varied her days are and she finds working with animals to be such a rewarding experience. She loves that her work makes a huge difference to the lives of our patients.
When Melissa isn't at work, she enjoys camping, 4×4 driving, travelling, and spending time with her gorgeous 3-year-old daughter, Aleksa.
Melissa's fur family includes rescue cats Eva (10-year-old) & Beer (10-year-old) and Ryder (9-year-old Kelpie) who she adopted from The Lost Dogs' Home.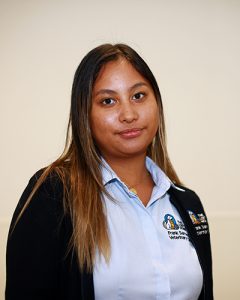 Nicole
Customer Experience Officer
Nicole graduated with a Bachelor of Veterinary Biosciences in 2020 while working in previous roles within the animal industry. She then joined the Frank Samways team in 2021.
Nicole has a lovely calm presence with our clients and their pets. What she loves most about her role is being able to interact with pet owners and their pets to ensure they are always happy and comfortable with their visit to the vet.
When Nicole isn't at work looking after our clients, she is out enjoying hiking, travelling and video gaming.
For as long as she can remember Nicole has always had a passion for animals and hopes pursue her dream of becoming a veterinarian in the future.
Nicole's fur family consists of Chloe (1-year-old, Japanese Spitz) and Luna (3-year-old, Dwarf mini lop rabbit)