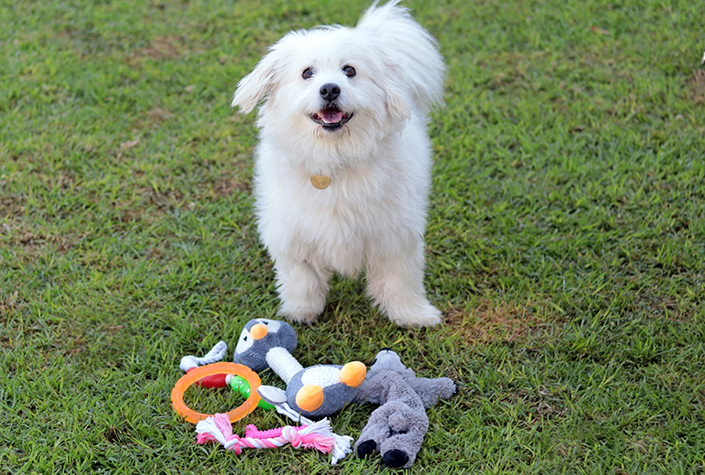 Our supply of dog bedding and toys is almost empty. Please help by donating an item on our wish list.
Dog lovers of Melbourne! We need your help to replenish our supply of bedding and toys for our shelter and foster dogs. Our bedding and toy shed is almost empty.
Are you able to donate any of the items on our wish list, to help provide comfort and enrichment to the homeless dogs in our care? We're able to accept items that are brand new, or used but clean and in good condition.
We're also in need of dog treats to be used as rewards in positive reinforcement training, and for enrichment.
Wish list
Dog bedding
Blankets
Beach and bath towels
Plush dog beds (all sizes)
Fleece dog beds (all sizes)
Dog toys
Kongs
Rope toys (large size)
Plush toys without battery packs or wires inside
Hard plastic toys (large size)
Chewy/rubbery plastic toys (large size)
Tennis balls
Dog treats
Dry dog food
Dry dog treats
Liver treats
Strap treats
Pigs ears
What we can't use
Unfortunately we're not able to use the following items at the shelter, as they're difficult to clean and maintain for re-use, or aren't suitable:
Bones
Rawhide treats
Pillows
Doonas/duvets
Bed sheets or doona covers
Tea towels or hand towels
Igloo pet beds
Elevated pet beds
Teepee pet beds
Kennels
Drop-off points
North Melbourne shelter
2 Gracie Street, North Melbourne 3051
View opening hours
Cranbourne shelter
920 Thompsons Road, Cranbourne West 3977
View opening hours
Spread the word!
Please help spread the word via social media or word of mouth. We'd love to see photos of your bedding or toy donation, too! Post photos of your donation on social media using the hashtag #LostDogsHome or email them to us so we can create a collage of all the gifts we receive for the shelter dogs.