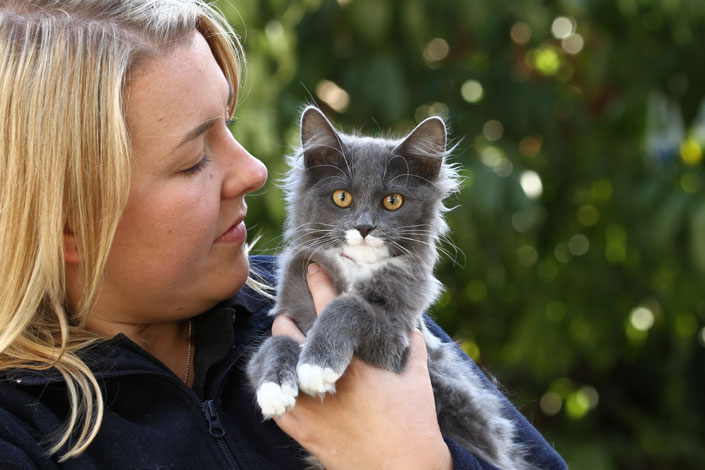 Virtual adoption appointments are now available for cats and kittens.
Why are you offering a virtual adoption process for cats?
Finding loving forever homes for our animals is at the very heart of what we do. We are continuously striving to improve our programs and processes to help rehabilitate and rehome as many animals as possible.

In response to Stage 4 restrictions, we proactively modified our operations to safeguard the health and safety of our staff, visitors, and animals. Under these restrictions, pet adoptions could continue, but with strict protocols in place to help stop the spread of COVID-19 in Victoria.

Virtual adoptions have been proven to work. Although Stage 4 restrictions have eased, we are continuing to offer virtual adoptions as an option to those willing to offer a loving forever home to our cats and kittens.
How does the virtual adoption process work?
1. View the cats and enquire: You can view cats and kittens available for adoption in the usual way on our website.
If you see a pet who sounds like a great match for you, click the 'Adoption Enquiry' button and submit an application.
If you are ready to adopt but don't have a particular cat in mind, email adoptions@dogshome.com and request a Kitty-Match appointment.
2. Application review: Once we have reviewed your enquiry, we will call you to discuss your application in detail to obtain further information about the type of cat you're interested in and the sort of home you can offer.
We will then schedule your virtual adoption appointment.
The Paws Pass Journey is applied to all virtual adoptions. The process encourages you to have an extra 'paws' for thought to make sure you are ready and happy to adopt and if confident with your match, we can pass on to the adoption confirmation stage.
3. Your virtual appointment: At the time of your virtual appointment, we will contact you via a video call on your preferred app – Facetime, Zoom or Skype – and introduce you to the cat you have expressed an interested in. If you have a Kitty-Match appointment, or if the cat you enquired about has since been adopted, we will take you on a virtual walk-through of the cat adoption centre and introduce you to the cats who are most likely to suit your circumstances.
During the virtual appointment, we will chat with you to find out more about your home, family, and lifestyle to help match you with a cat who is the perfect fit, both for you and for them.
Once you have found your kitty soulmate – and our team are happy it is a pawfect match – we will put Puss on hold for you. If you don't find your kitty soulmate this time around, that's no problem, it's important to get the match right and you can continue checking our website and enquire about another appointment at a later date.
Adoption paperwork will be emailed to you at the finish of your virtual appointment. If you have a printer, you can print, sign and scan the paperwork back to us. If not, you can use Adobe Fill & Sign to complete the paperwork digitally.
Once we have your signed paperwork, we will arrange for a short in-person appointment for you to visit the shelter, finalise the adoption and pick up your new feline family member.
You have 24 hours to consider, sign and return the paperwork. If we don't hear back from you within 24 hours however, and we can't reach you, we will unfortunately have to remove the hold on Puss to give him/her the best chances of being rehomed by another family.
4. Finalise the adoption and pick up your new best friend: It is very important to note that only one member of your household will be able to visit the shelter to finalise the adoption. Once the adoption fee has been paid and any outstanding paperwork has been completed, you will be able to take Puss home with you immediately.
Can I still make an appointment to visit the shelter to meet the cats?
Yes. Once your enquiry has been received, we'll add you to our list and the team will be in touch to schedule your virtual or in-person adoption appointment.
How am I meant to form a connection with a cat if I can't meet them?
You will find extra detailed personality descriptions, multiple photos and videos and information about the kind of home they are looking for on our cat adoption profiles.
During your virtual appointment, our attendant will give a comprehensive introduction to the cat you are interested in so you can get a better idea of their personality, size, and appearance. They will interact with the cat so you can see how he/she responds to pats, cuddles and playing.
We also encourage you to keep in mind that a cat's personality may not truly flourish until they've had time to settle into their new home and adjust to their new environment.
How do you make sure the cats are going to good homes?
Our adoption processes are thorough, and they are extra so during the virtual adoptions Paws Pass journey. All applicants are interviewed about their home, family (including existing pets) and lifestyle, to ensure their new pet is a great match for their unique circumstances.
For pets with behavioural or medical conditions, adopters are required to have a discussion with one of our behaviour trainers or vets prior to adoption, to ensure they have a thorough understanding of the pet's condition and are prepared to meet their ongoing care requirements.
After the adoption, adopters receive a follow-up call from our team to check in and see how their new pet is going. Should there be any behavioural or medical concerns, our specialist behaviour team and vets are available to provide information and support.
Can I opt for a virtual appointment to adopt a dog?
Dogs naturally have far more complex requirements than most cats. We feel it is important for prospective dog adopters to physically interact with a new dog and especially so if there is already another dog in the family. At this point in time, we do not plan to host virtual adoptions for dogs.